Are you of Bifocal Age and work at a computer two or more hours a day?
Here's how you can Stop annoying Eyestrain and Neck or Shoulder pain…FAST!
You can buy this new affordable Computer Conversion Clip-on that will change the distance portion of your existing prescription glasses (Bifocals,Trifocals and Progressive Lenses) to a mid-range working focus that is both easy on your eyes and your neck!
Here is a simple, affordable solution with the newest design light weight clip-on computer reading lens!
Computer Conversion Clips
…NEW Affordable Price of

$34.95

, NOW, $19.95 for a limited time.
* Check out the Special Two Pair Pricing Below *
From: Bill Valentine, Master Optician
Computer use at work and home is growing exponentially. Associated with this increase use are a number of visual and physical symptoms experienced by 50%-90% of all computer users.
Computer eyestrain is the #1 office-related health complaint in the U.S.(Harris Poll); over 143 million Americans suffer from computer eyestrain (American Optometric Association). If you have experienced fatigue, headache, eye strain, blurred vision, dry or irritated eyes and neck or back aches at the computer it is possible that you are suffering just some of the symptoms called Computer Vision Syndrome (CVS).
A Simple Solution Exists: Working at a computer is more visually demanding than doing other standard office work such as reading printed documents.
Ideally, the corrective power needed for viewing a computer monitor, which normally occurs at eye level and above, should be in the upper half of the computer user's prescription glasses not in the bottom half.
The new Computer Conversion Clips will solve this common problem at a fraction of the cost of a new pair of computers glasses by placing an ultra wide, clearer optical zone of computer distant vision in the top half of the user's existing prescription glasses. Yes, over your existing Bifocals, Trifocals, or Progressive "no-line" bifocal lenses.
Using this new innovative custom digital design clip-on to view a computer monitor eliminates repetitive up and down head movement and the eye and neck strain which result from improper bifocal use. The same holds true if you wear trifocals or "no-line" progressive lenses.
You can benefit immediately from a natural head and neck position with a pair of Computer Conversion Clips (TM).
My wife, Sheryl, is a Chiropractor in South Pasadena, CA, and according to her, prolonged sitting at the computer wearing bifocals, trifocals or progressive lenses forces the neck forward on the shoulders and the head to roll back into hyper-extension. The painful effects brings patients into her office for treatment.
You don't have to suffer the painful neck, shoulder and upper back effects!
The new Computer Conversion Clips (TM) allows for the head to remain in a neutral position while operating at the computer. This optical quality computer lens with non-glare coating dramatically reduces eyestrain, neck and shoulder pain, as well as lower back discomfort form constantly moving forward in your office chair.
This is what the Computer Conversion Clips look like…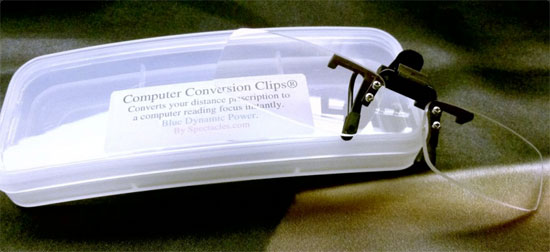 … you will get immediate relief from your new computer eyeglass lens-aid!
Testimonials
"I was very hesitant about purchasing the computer conversion clips because I thought, "How could they possibly work for everyone, regardless of eyeglass prescription?" Well, amazingly enough, they do work.
I was having a terrible time seeing my computer screen with my progressive no-line bifocals. Craning my neck backward to read the screen was causing a real pain in the neck! When I put these on, everything became clear.
One of my co-workers tried the clip with her prescription glasses and they worked great for her as well. When I need to get up from the computer, I just take them off, or flip the lens up, since I already have on my day-to-day specs. I love these so much that I purchased a second pair so I could have one pair for work and one pair for home.
This is a wonderful and inexpensive alternative to special prescription computer glasses.close"
Leslie H., from California
Benefits of A Computer Lens Clip-on Includes:
Unique Anti-fatigue designed optics for intense
computer use crafted by eye care professionals.
Ultra-Violet protection and reduction of Blue Light for increase comfort.
Optical Quality Acrylic / Scratch Resistant Lenses. The lightest weight clip-on for increase wearing comfort too.
Light weight design keeps your eyeglasses from slipping down your nose.
One Year Warranty
The Computer Conversion Clips are precision crafted digital designed optical quality, and meets ANSI standards for optical devices.
Crisp clear non-glare coating reduces eye strain and headaches. "See all you can see".
Normal Computer type Bifocals cost $200.00 – $300.00.
Custom design crush proof case and micro-cleaning cloth included.
The Computer Lens Clip-on Flip Ups costs only

$34.95

$19.95 plus shipping. I keep an extra pair at the office!
More from another satisfied user…
"While working on a computer for a friend, I noticed his Computer Lens Clip-on sitting on his desk. He said they simply attached over his bifocal glasses and he immediately stopped having to move his head up and down. He told me to try the clips on my glasses. I literally could not believe my eyes! The screen became perfectly clear…instantly, and that was through the top of my bifocals. WOW I said…these clip-ons work great!!! How much are they and where do you get them? I now have a pair at home, one at the office, and travel with one in my laptop case!
– V. Vaca, President – Sound Solutions, Inc
---
Computer vision is a very common complaint of multi-focal wearers. The computer monitor is usually positioned near eye-level at mid-range distance. Due to the optical limitations of multi-focal lenses, this is a dilemma for the eye doctor because it is virtually impossible to prescribe one pair of glasses that solves all our visual demands and fulfills the need of a computer user.
Most importantly, the corrective powers of the Computer Conversion Clips are designed specifically to position computer viewing in the top portion of the existing Rx glasses. This eliminates frustrating up and down head movements and related neck strain.
Secondly, the computer conversion lens is a single vision, mid-range power that extends entirely across the upper zone of the person's existing Rx. This provides a much wider, clearer field of vision than the narrow channel of a progressive lens. As an added BONUS you have a non-glare anti-reflection coating on the lenses so you can see better with less eyestrain, and now a reduction of visible high energy Blue Light with an added filter.
"The cost of adding non-glare anti-reflection coating to my daily wear glasses cost more than the price of a pair of Computer Conversion Clips!"
Easy to use…there is no need to remove your glasses. Simply clip-on and flip up for convenience.Versatile…perfect for other activities performed at arm's length distance (i.e. piano playing, painting, maintenance repairs, overhead tasks, working at a desk and playing cards etc.)

Crush Proof Custom Case Included

Blue Dynamic Power

for

53 years and older.

Yellow Dynamic Power

for 52 years old and younger.

All of these benefits for a new affordable price of

$34.95

$19.95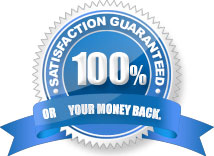 Two Dynamic Computer Conversion Powers available to fit all bifocal wearers. Blue Dynamic Power if you are 53 years and older; Yellow Dynamic Power for 52 years old and under.
People who are in their early bifocal years require less power than more mature bifocal (trifocal or progressive) lens wearers. One power does not fit everyone, so Computer Conversion Clips offers two dynamic powers.
Buy Now…
$34.95 $19.95
Just select the Computer Conversion Clip you want (Blue for 53 and older, or Yellow for 52 and younger) and then click on the PayPal Banner. You will be directed to the PayPal page where everyone can complete their order.
The Computer Conversion Clips are designed to assist customers that wear bifocals, trifocals and "no-line" progressive lenses to read their computer without having to purchase a $200-$300 second pair of prescription computer glasses.
The Computer Conversion Clips simply attach to the front of your current prescription lenses to provide the corrective lens power for a clearer and wider zone of vision at the top of your eyeglasses, eliminating the bobbing head and neck strain from trying to find that perfectly focused view!
I will be giving the CCC buyers a 360 day guarantee.
100 % Satisfaction Guaranteed or your money back.
Also, I will include a Micro-fiber cloth to clean the computer lenses, besides the custom crush proof case, and two dynamic powers from which to choose.
---
Buy 2 pairs of Computer Conversion Clips and SAVE!
  For a limited time you can get 2 pairs of Computer Conversion Clips for $34.95. 
---
Designed by eye care professionals. No prescription necessary. One size, and two power levels (Blue Dynamic Power for 53 yrs and older; Yellow Dynamic Power for 52yrs and under) that will fit everyone that wears bifocal type lenses.
The target market is over 215 million computer users, which is more than 71% of today's society.
The computer lens clip-ons are not only used for computer purposes, but they are also used for many different needs in numerous professions. Mechanics, artist, librarians, commercial painters, electricians, home repair enthusiasts and musicians have all used the computer clip-on's for their specialized mid-range vision needs.
It is amazing to see how immediately people respond to this computer lens, and more importantly, how much more comfortable they are while looking at the computer screen.
Here are couple of good TIPS…
I do take breaks every hour or so to rest my eyes by looking out the window. Observing objects greater than 20 feet allow your eyes to rest.
Also, remember to keep "blinking" your eyes while on the computer to keep the eyes (corneas) moist.
---
Another testimonial…
"These are definitely NOT for the fashion conscious! But, if you are tired of getting a stiff neck, they are perfect.
I have worn bifocals for years, while working on a computer. The stiff neck I kept getting from tilting my head to see better was annoying, not to mention painful. Regular computer glasses are costly and required me to take my glasses on and off every time I walked away from the computer or someone came into my office.
These Computer Conversion Clips are lightweight and sit right on the front part of the frame. All I have to do is flip the clip up whenever I don't need them. I see great with them, too. Amazing little glasses! Yes – I look like a geek, but a geek without a stiff neck!"
Barbara B. Bartlett, Environmental Supervisor, Florida.
---
To your computer vision comfort success,
Bill Valentine, Ph.D., Optician
Any Questions?
Email me: Eoptical (at) aol.com
Buy Now…for only $19.95!
Select from drop down and then click on banner.