Computer use in business is becoming the standard mode of operation today. If you are over 40 years old and working on the computer for most of the day, than chances are you have probably experienced some of the most common side effects of computer vision syndrome. The symptoms include eyestrain, fatigue, red eye, blurry vision, double vision, eye's burning, neck and shoulder pain as well as lower back pain. Solving this problem involves a visit to your favorite eye doctor.
Optometry has been working to help solve computer vision problems since the invention of the desktop. Optometric eye exams will result in the doctor giving you a current prescription for general wear purposes for distance and reading (for the over 40 crowd), and usually a second pair of task specific glasses for working at a desk with a computer. One pair of glasses will not give you the visual relief from intense computer use when the primary use of the eyeglasses includes the distance prescription.
If the cost of an extra pair of glasses is more than you want to spend, than a low cost alternative would be to purchase a pair of clip-on computer glasses. Not all computer reading clip-ons are the same, so here are ten reasons why Computer Conversion Clips (CCC's) are considered the best among the optical community professionals.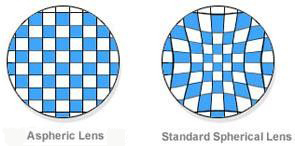 1. Demonstrated above on the left side is a Higher Quality Digital Optics design that will give the computer user an extra-wide sharper viewing field across the entire lens to see the computer monitor. Why settle for less?

2. Thinner lightweight lenses will create less of a problem with eyeglasses slipping down your nose than the other bulky cumbersome clip-on lenses.
3. Acrylic material has better light transmission properties than the standard polycarbonate lenses that all the other clips use. Acrylic is more scratch resistant than polycarbonate and does not turn yellow with age. Acrylic is used for motorcycle helmets for these reasons. That is actually two reasons, but whose counting?
4. Anti-fatigue designed optical centering will provide greater comfort for intense computer use; because the eye muscles will not have to work harder to turn in or converge to maintain a steady focus on the PC screen.  Work smarter not harder with a Computer Conversion Clip.
5. Anti-reflection coating will maximize all the possible light to the back of the eye to relieve eyestrain. Combined with the acrylic material gives the computer user the best vision possible.
6. The customized lens size and shape is made smaller to cover the top half of your eyeglasses, so you can continue to use the lower reading portion of your glasses. Your general wear glasses are now made more task specific with the clip-on, allowing you to work more productively with better ergonomics.
7. Computer Conversion Clip's have a custom fitted boot at the tip of the clip-on lens clamp. Most other clips have the tips dipped in a rubberized material, which doesn't last so your lenses begin to form scratch marks at the clamp site.
8. The only custom designed crush proof hard plastic case for safe storage. I am not sure if the other clip-on's even come with cases.
9. The clips come with a one year warranty.
And now for reason number ten, for good measure, a micro fiber cloth is included for easy cleaning and maintaining clear vision.The idea of additional lens magnification is really a simple one, however, the thought and details on how to best produce a quality clip-on lens product that will deliver the best possible result is a little more complicated.
Depending on your age Computer Conversion Clips come in two dynamic powers (Yellow power for 52 yrs old and younger, and Blue power for those users 53 and older)  to give the computer user the very best experience.
Vision takes up the majority of your brain activity; so why not treat your brain and body to better vision and better ergonomics by working smarter and not harder with a dedicated pair of computer glasses, or a premium quality clip-on computer reading lens like a Computer Conversion Clip.