Learn to become an Optician in only 12 weeks; get better results than a 10 Month Career College with Private Instruction from a Master Optician!
You Can Fast Track to a New Career, or Career Change (Full time Optician, or Part Time).
LA Optician Training Workshop will prepare you to pass the National Opticianry Exam to become a Certified Optician?
You can become an Optician with both the knowledge and skills in the new 12 week schedule. A Vocational School will take about 10 Months at a cost of around $18,000 – $24,000 for the Optician Training Course.
The LA Optician Training Workshop with the new 12 Week Format will cost only $2395.
Learn how you can make money as an Optician?
Don't like Math? Some basic Algerbra is helpful; however, you will be taught all the math you need to know to be a successful Optician!
LA Optician Training Workshop offers a comprehensive education in opticianry through a working optical office and from an experience educator.  The workshop will run for 12 Weeks.  It will be about 100 hours of education and training.  Most private post-secondary schools will stretch out the course material to about nine or ten months with a minimum cost of $18,000.
Today's cost of the LA Optician Training Workshop is now only $2395. Ask about a payment schedule for the Workshop. This is the fastest path to a career change, and obtaining the letters "ABOC" (American Board Opticianry Certified) after your name.
Call or text me at 1-818-398-1760 for more information on
becoming an Optician with Bill Valentine, or Email me at ValentineOptical@gmail.com
The workshop will cover the following topics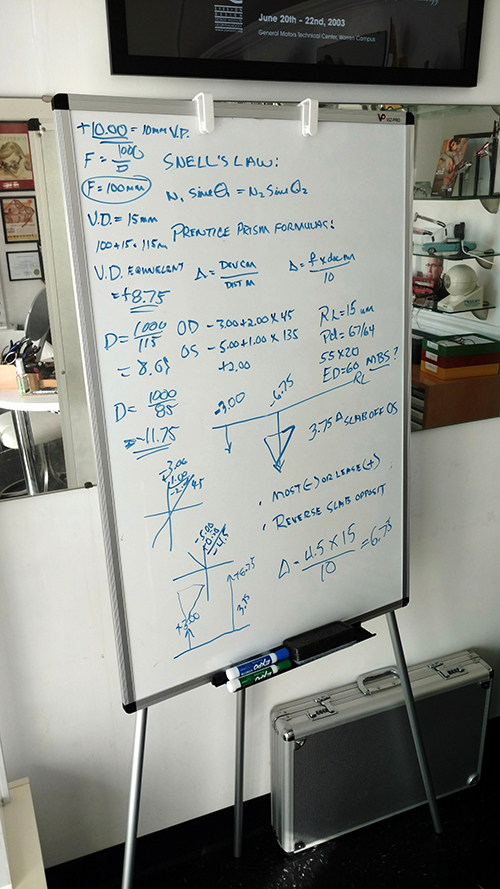 The emphasis is to learn both the practical theory in optics and the skills necessary to make and adjust eyeglasses to maximize vision and learn to adjust eyewear for frame comfort, in less time than it takes through a private post-secondary school, and for a fraction of the costs
* Basic Ophthalmic Optics
* Optical Principles and Theory
* Eye Anatomy and Physiology
* Ophthalmic Dispensing (will include)
Lensometry – Measuring lens Rx's
How to Fit and Adjust Eyeglasses
How to Cut and Edge Lenses into a Frame
Troubleshooting Eyeglass Problems
Ophthalmic lens designs
Frame Styles and Selection
How to Measure Puppillary Distance (PD)
* Ophthalmic Regulations
* Communication and Office Procedures
* Practical Optical Experience (In Store)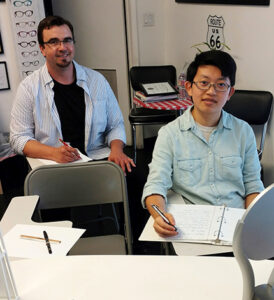 Class Scheduling: The scheduling of the classes will vary depending on the workshop participants.  Flexibility in arranging the class will consider the best possible ways to complete the training with the least amount of interference with the applicant's routine.  Scheduling is in the evening, usually 6-8:30pm Tuesday, Wednesday(optional),and Thursday. Scheduling on some of the weekends to finish the required lab time might be necessary. Real experience with eyecare patients will add to the value of your Optician Training.
Small class size is key to the learning process. Class size for the Bill Valentine Opticianry Workshop is limited to a maximum of about 2 or 3 students.

Prerequisites for admission:  18 years of age or older, high school graduate or equivalent.  Students must have good manual dexterity, and a basic understanding of high school level algebra.  Good communication skills with people of all ages, and an appreciation for precision and accuracy.

A certificate is provided upon successful completion of the LA Optician Training Workshop from Bill Valentine. The course work will help you pass the National Opticianry Competency Exam (NOCE) given by the American Board of Opticianry, and upon passing the exam allow you to use the initials, ABOC, after your name. ABOC stands for American Board of Opticianry Certified.
| | |
| --- | --- |
| Pictured here is Burke Ericson; recently completed my Ophthalmic Optics Workshop and than took the next scheduled National Opticianry Competency Exam. Now today, meet Burke Ericson, ABOC. | Pictured here is Tam, using a lensometer to measure the prescription lens. Learning to use the lensometer is one of the basic pieces of equipment that an Optician is expected to know. |
Today, most modern ophthalmic offices have auto lensometers that do most of the hard work for any operator, however, the protocols learned with a manual lensometer make the optician/user more accurate.  Auto lensometers break down from time to time, so a the back up manual lensometer is a vital piece of equipment to any office.
The process of measuring and marking up lenses to be edged into a frame is part of the basic opticianry skills I teach.  Pictured here is Tam using a layout blocker to position the lens for edging into a frame.
You will be surprised how quickly you can master this skill with the right training.  Optician's who can perform this fabrication in their office will increase their profits.
| | |
| --- | --- |
| | Burke and Tam are cutting and edging work for me. I might add that they do a really good job with the lens processing as well as tinting and mounting the lenses into all of the different frames. |
If you're ready to take the challenge to become a skilled and knowledgeable optician, than you too can earn your Ophthalmic Optics Workshop Certificate, and be prepared to take and pass the National Opticianry Competency Exam for your ABOC.
Call 1-818-398-1760 for more information on
becoming an Optician with Bill Valentine.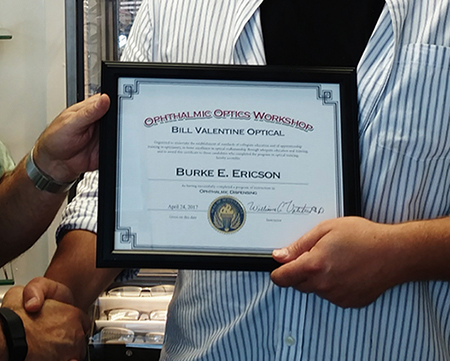 About Your Instructor
Bill Valentine completed a two year curriculum in ophthalmic optics given at Los Angeles City College in the early 70's.  Working as an optician part-time, Bill went on to do both undergraduate and graduate work in psychological testing and neuropsychology.  Bill crafted a program Self Defense Combatives for both seventh and tenth graders that aligned with the California Framework, and taught physical educators for 20 years as a limited part time endeavor. Enjoying optical as a profession more than psychology, Bill worked for a large eye medical group for several decades as a Master Optician and director of the Optical Department.  Bill taught evenings  in Ophthalmic Optics for five years with his father at the Superior Optical School of Dispensing Opticianry in Glendale, CA. Bill retired his 5th Degree Black Belt, and from  twenty years service as a volunteer in the United States Coast Guard Auxiliary as a Division Captain in 2016.  Now, Bill enjoys the independence of his own optical store and the ability to continue teaching the art of opticianry through his workshops.